Indigenous Knowledges and Scholarly Publishing
The Failure of Double-blind Peer Review
Keywords:
Indigenous Knowledges, Scholarly Publishing, Peer Review, Whiteness, Systemic Racism
Abstract
At its core, academic knowledge production is predicated on Western notions of knowledge historically grounded in a Euro-American, White, male worldview. As a component of academic knowledge production, scholarly publishing shares the same basis of Whiteness. It excludes knowledge that doesn't conform to White, Western notions of knowledge, forces conformity to (and therefore reinforcement of) a Western standard of writing/knowledge, and leads to a reverence of peer-reviewed literature as the only sound source of knowledge. As a tool of scholarly publishing and the editorial process, blind peer review, though perhaps well-intentioned, is fraught with problems, especially for BIPOC researchers and writers, because it fails in its intended purpose to drastically reduce or eliminate bias and racism in the peer review and editorial processes; shields peer reviewers and editors against accusations of bias, racism, or conflicts of interest; and robs BIPOC, and particularly Indigenous, writers and researchers from having the opportunity to develop relationships with those that are reviewing and publishing their work.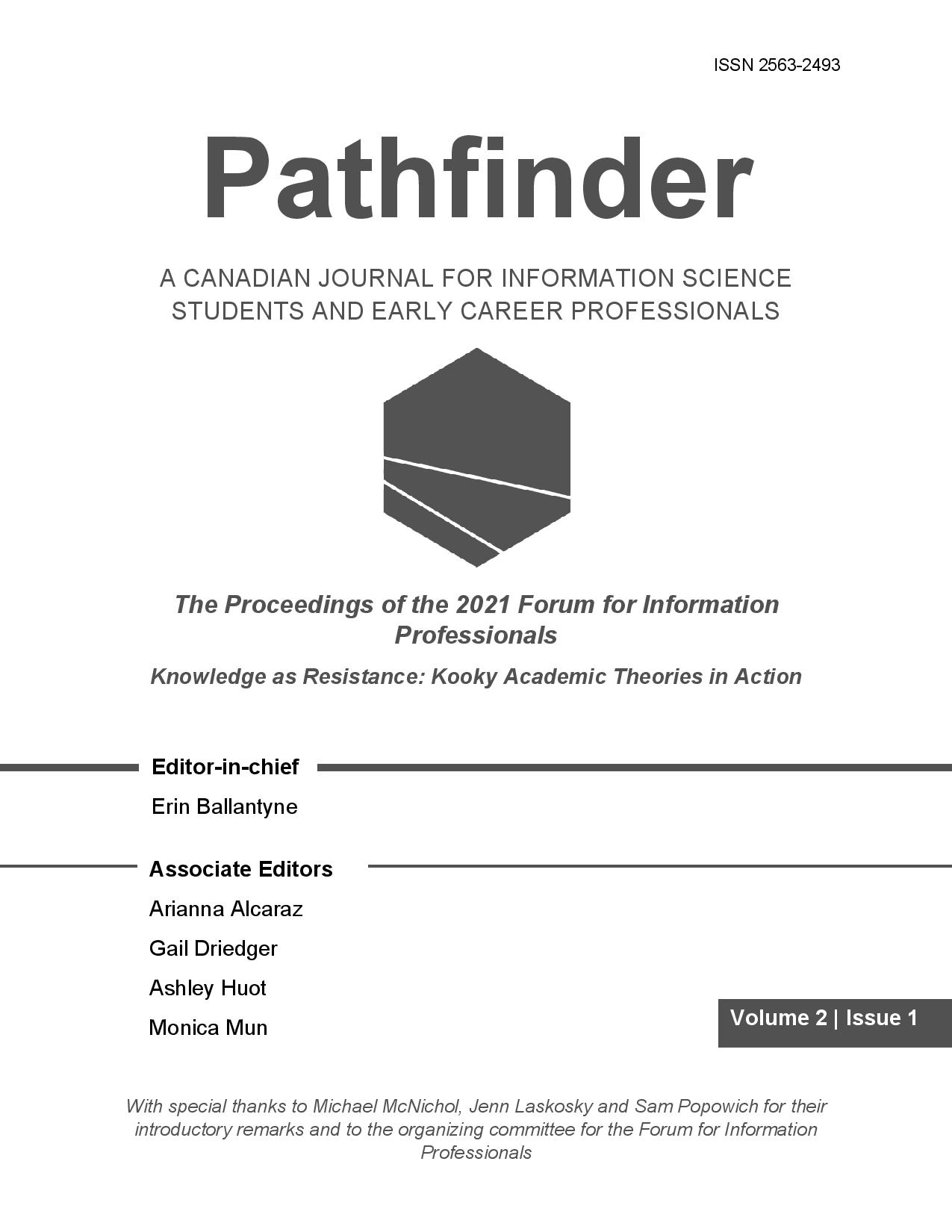 Downloads
How to Cite
Boyd, G. (2021). Indigenous Knowledges and Scholarly Publishing: The Failure of Double-blind Peer Review. Pathfinder: A Canadian Journal for Information Science Students and Early Career Professionals, 2(1), 34–40. https://doi.org/10.29173/pathfinder44
Section
FIP Extended Abstracts
License
Copyright (c) 2021 Geoffrey Boyd
This work is licensed under a Creative Commons Attribution-ShareAlike 4.0 International License.
Authors retain all copyright for their work published by Pathfinder. The specific copyright information for each work is included with the work itself. Pathfinder retains the right of first publication. Use and reproduction rights of any articles or abstracts on the Pathfinder website are granted for individual, non-commercial, and educational purposes only, and if properly cited for electronic materials. Otherwise, permission must be obtained from Pathfinder or the authors.
All other materials are covered by a Creative Commons Attribution License (CC BY-NC-SA).