Library Considerations for the Colonial Impacts of Indigenous Cookbook Publishing
Keywords:
Indigenous cookbooks, publishing, Indigenous publishing, colonial impact, library considerations, Traditional Knowledge, Canadian Cookbooks
Abstract
According to Natifs (North American Traditional Indigenous Food Systems), the first action in understanding the Foundations of an Indigenous Food System Model is the "Removal of Colonized Thought." food sovereignty, physical and spiritual connection to land, and sustainable food practices are interlocked with decolonial action. Considering Traditional Knowledge (TK), as intellectual property, what does it mean for libraries to collect books containing TK, such as cookbooks written by Indigenous authors, published by Indigenous publishers or otherwise dealing with Indigenous Food Systems? Mindful of the colonial impacts on cookbook publishing in Canada, the author proposes a 4-part framework for libraries when acquiring or weeding Indigenous cookbooks to and from their collections. Used as a tool, the framework promotes the stewardship of collections (and metadata) that do not perpetuate colonial violence through language and Eurocentrism, but champion Indigenous authors, publishers, and content. Written from the position of queer-settler, the essay provides examples of published works that meet the criteria of the framework, celebrating Indigenous Food Systems that predate librarianship's colonial classification. Through personal narrative, the author demonstrates how the offerings of such texts can become integrated into a personal stewardship of the teachings being shared that directly informs the case for equitable collections management.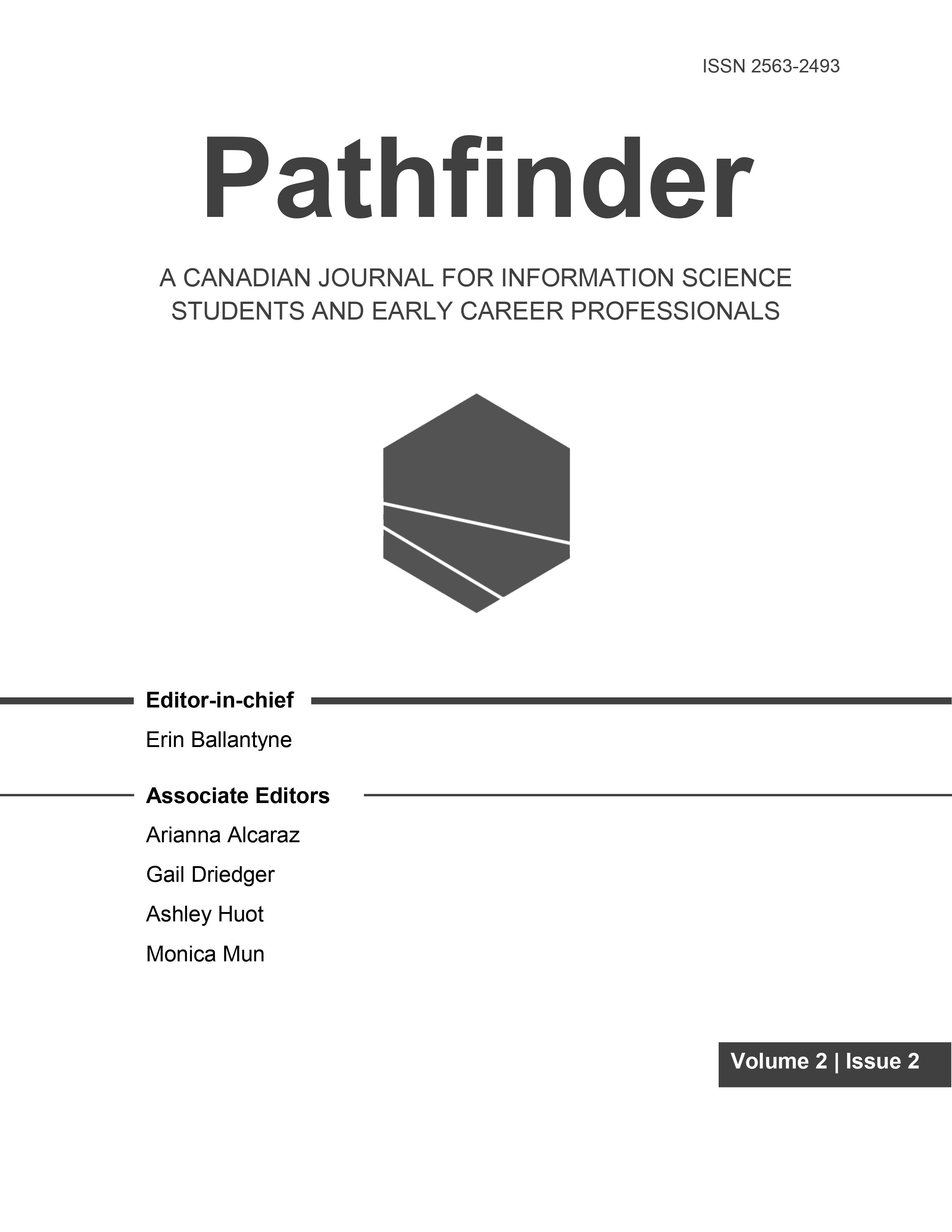 Downloads
How to Cite
Stolz, D. (2021). Library Considerations for the Colonial Impacts of Indigenous Cookbook Publishing. Pathfinder: A Canadian Journal for Information Science Students and Early Career Professionals, 2(2), 35–52. https://doi.org/10.29173/pathfinder29
Section
Scholarly Articles
License
Copyright (c) 2021 Devon Stolz
This work is licensed under a Creative Commons Attribution-ShareAlike 4.0 International License.
Authors retain all copyright for their work published by Pathfinder. The specific copyright information for each work is included with the work itself. Pathfinder retains the right of first publication. Use and reproduction rights of any articles or abstracts on the Pathfinder website are granted for individual, non-commercial, and educational purposes only, and if properly cited for electronic materials. Otherwise, permission must be obtained from Pathfinder or the authors.
All other materials are covered by a Creative Commons Attribution License (CC BY-NC-SA).