Becoming a Librarian Amidst a Professional Identity Crisis
Keywords:
Intellectual freedom, LIS curriculum, Inclusive, Room booking
Abstract
Adopted in the late 1930s, the Library Bill of Rights grounded the profession in the core value of intellectual freedom. This core value was challenged in the 1930s, the 1960s, the 1990s, and again in recent years by calls for social responsibility within our ranks. The re-occurrent discomfort with upholding intellectual freedom is particularly evident today in the case of public library third party meeting room bookings by controversial speakers. Both the Toronto Public Library and the Vancouver Public Library (as well as the Edmonton Public Library for lending its support) have come under scrutiny by both specific voices within the field as well as the community more broadly. This is not the first time, nor will it be the last time, that publicly funded libraries are faced with controversy surrounding intellectual freedom.
Using critical information theory, this presentation examines important questions: How is intellectual freedom defined, redefined and confined today? What is the relationship between the core value of intellectual freedom and sister core values such as social responsibility, diversity and democracy? How do we uphold professional ethics (e.g., IFLA Code for Librarians and Other Information Workers) in instances when our personal, professional, institutional and/or association commitments do not align? As a 2019-20 SLIS research assistant, these questions are rooted in my ongoing academic explorations with Dr. Samek of the nature and extent LIS curricula (for both professionals and paraprofessionals) prepares graduates to negotiate the perpetually complicated core value of intellectual freedom from a position of confidence, and not fear, defensiveness or divisiveness.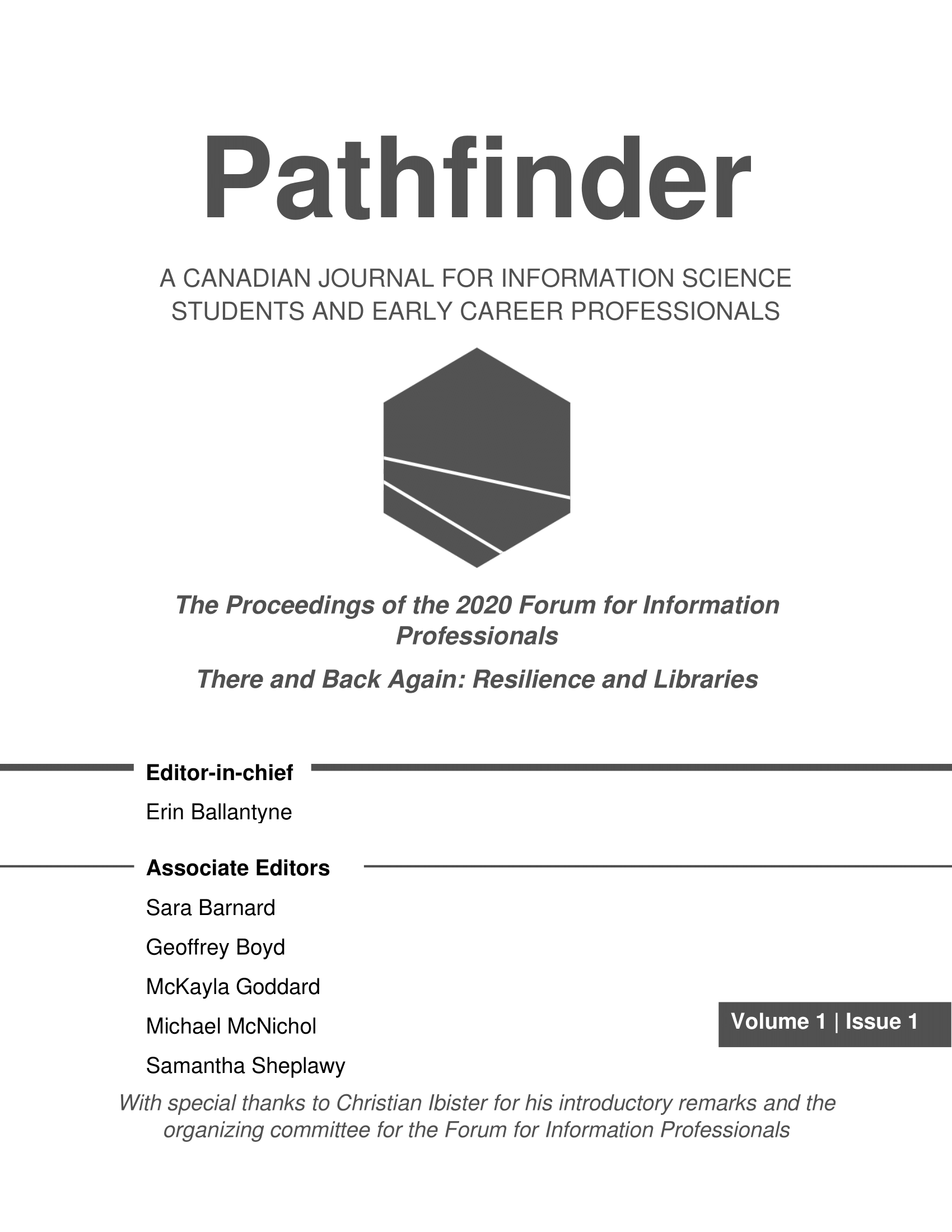 Downloads
How to Cite
Edwards, A. (2020). Becoming a Librarian Amidst a Professional Identity Crisis. Pathfinder: A Canadian Journal for Information Science Students and Early Career Professionals, 1(1), 3–9. https://doi.org/10.29173/pathfinder17
Section
FIP Extended Abstracts
License
Copyright (c) 2020 Ashley Edwards
This work is licensed under a Creative Commons Attribution-ShareAlike 4.0 International License.
Authors retain all copyright for their work published by Pathfinder. The specific copyright information for each work is included with the work itself. Pathfinder retains the right of first publication. Use and reproduction rights of any articles or abstracts on the Pathfinder website are granted for individual, non-commercial, and educational purposes only, and if properly cited for electronic materials. Otherwise, permission must be obtained from Pathfinder or the authors.
All other materials are covered by a Creative Commons Attribution License (CC BY-NC-SA).